Steve Gann - Legs & Knees

Email drstevengann327@yahoo.com

Vendor since: August 28th, 2003

Dr. Steve Gann
79 Pinto Lane
Cape Fair, Missouri 65624

Payment by Postal Money Order.



Legs & Knees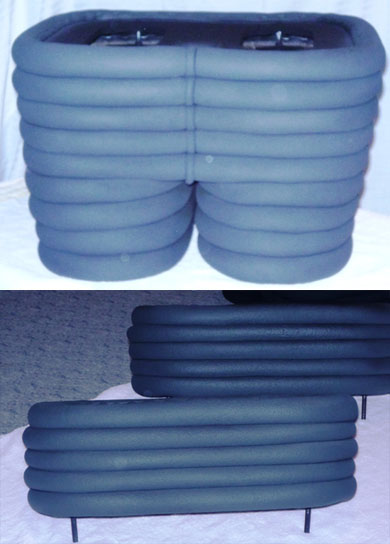 Thanks for your interest in our handcrafted leg and knee sections for the Lost in Space®, Robot B9™. We are committed to supplying builders with the best looking and most budget conscious leg and knee sections we can for their B9 project. With a wood frame, these high-density foam legs and knees are triple coated with a very strong rubberized coating for protection. Each layer in the leg section is bolted to the next to add to the stability of the section. The bolting and spacing ensures that these legs will not budge and will retain their appearance in spite of weight the upper half of the B9. These legs will not "squish" over time.
The knee section is triple coated as well. It does not have the sharp lines of the fiberglass or molded rubber knees, but the difference in appearance might balance out for you cost-wise in comparison.
We make both first season and Bermuda style leg sections as you can see in our pictures. The "split crotch" appearance accurately reflects the look of the first season B9. These legs will give your B9 project a great first season appearance.
Leg and knee sections are made to order with a $150.00 non-refundable deposit due upon placing the order.
At the time the order is placed and the $150.00deposit is received, a firm ship date will be established, no longer than 10 to 14 days from the receipt of deposit. Balance is due before shipping. All transactions are documented with deposit and paid in full receipts emailed and hard copied. I believe in great communication!

Budget Knee Section
Including Packing/Shipping/Insurance
Price $395.00
Leg Bellows Section
Including Packing/Shipping/Insurance
Price $695.00

If you are interested and/or have further questions, please feel free to contact us by email or just call me up! We are committed to helping provide a quality product on a budget in a timely fashion for your B9 project.

drstevengann327@yahoo.com or 816-616-0388