Craig Reinbrecht
Email craig@bex.net
Vendor since: July 7th, 2003
PLEASE READ - Notice to my fellow Builders
Email communications:
Due to my job and family responsibilities, I may not be able to check my email everyday, so please be patient. I do answer all mail, even if it takes several days.

Lead time for some parts:
Some parts may require a wait of up to 3 to 6 weeks, particularly labor-intensive parts such as Neon and Vents. However, I do not accept or request any payment until all parts are ready to ship.

Shipping:
Shipping and Handling is extra and will be added to each order. (Except I_B9)
Shipping is included in the price of I_B9, even Internationally.
Shipping is typically USPS Priority or UPS Ground, however some smaller items by be shipped First Class.
Payment:
I do not accept any payment until parts are ready to ship.
Checks and Money Orders are my preferred method of payment.
I will accept PayPal, however if you choose to use PayPal, you agree to cover the fees on orders of $100 or more. (Except I_B9)
Disclaimer:
Please understand that all sales are final.
In purchasing any of the items below, you are agreeing that I (Craig R.) am in no way held responsible for personal harm or any damages due to the use or misuse of purchased merchandise.
By placing an order, you are agreeing to all of the above.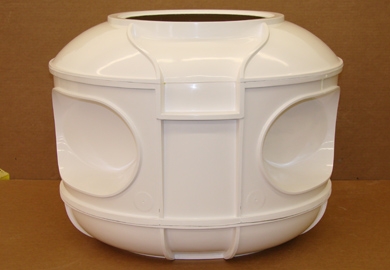 NOW AVAILABLE!
MikeJ-v2 Torso

$950 (plus shipping & handling)

This is a second generation cast from the original stone molds and the most original and accurate torso that has ever been available to the club! Thanks to Master Robot Builder, Mike Joyce these torsos are crisp, clean and true to the original Hero Robot. Manufactured by a premier fiberglass shop that specializes in Corvette parts, these are also the highest quality hand-laid fiberglass robot parts ever offered. A high quality casting means these parts will take a minimum amount of work to finish up. A very uniform thickness will also make mounting the detailed torso parts much easier.
Please Note: The v2 Torso is slightly smaller in size than previous club torsos, so there are a few parts that also need to be v2 sized.
See my article on critical parts for the v2 Torso.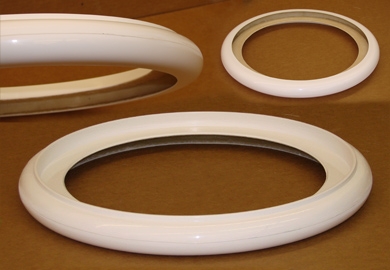 MikeJ-v2 Donut

$375 (plus shipping & handling)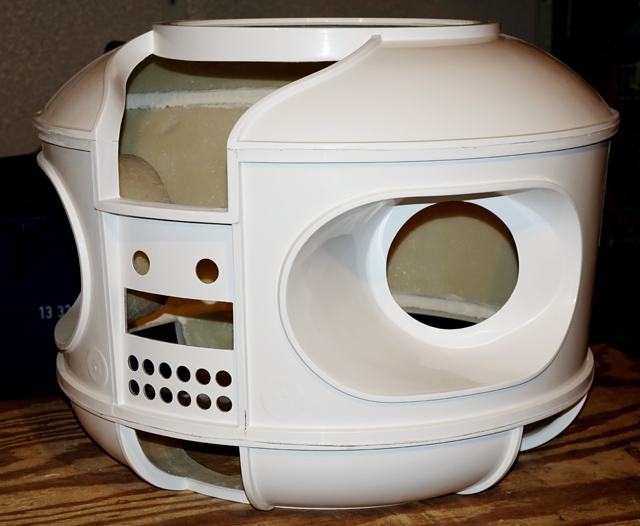 NEW! MikeJ-v2 Torso with All Holes Cut!

$1109.00 (plus shipping & handling)

This is the v2 Torso with all the Holes beautifully and professionally cutout by the masters at the fiberglass shop. The Arm and Chest panel holes are completely finished and ready to go! All you will need to do is some final sanding in the Neon and Vent holes to finish those to your liking, and this torso will be nearly finished!
Note: The arm holes are cut to 5-3/4" Diameter, perfectly sized for Will Huff's silicone rubber Arms.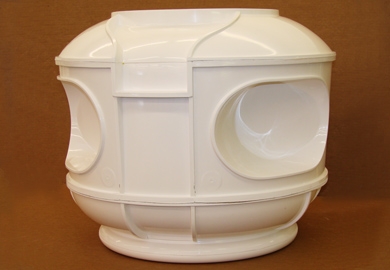 The MikeJ-v2.0 Torso and Donut Package

$1290.00 (plus shipping and handling)
NEW! MikeJ-v2 Torso with All Holes Cut!
plus Donut Package

$1449.00 (plus shipping and handling)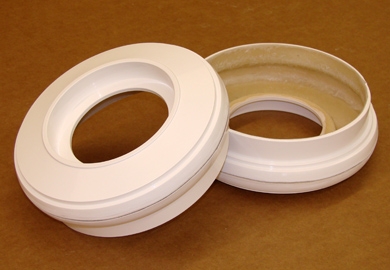 Lightweight Fiberglass Wrists (only 10 oz. each!)

Set of two $340 (plus shipping & handling)
These very lightweight wrists (only about 10 oz. each!) are a must if you are animating your robot or making a costume where weight is critical. Wrists come as pictured. Please Note, Rod R. & Bill K. are currently developing lightweight Wrist Centers and Claws to work with these fiberglass wrists! Coming Soon!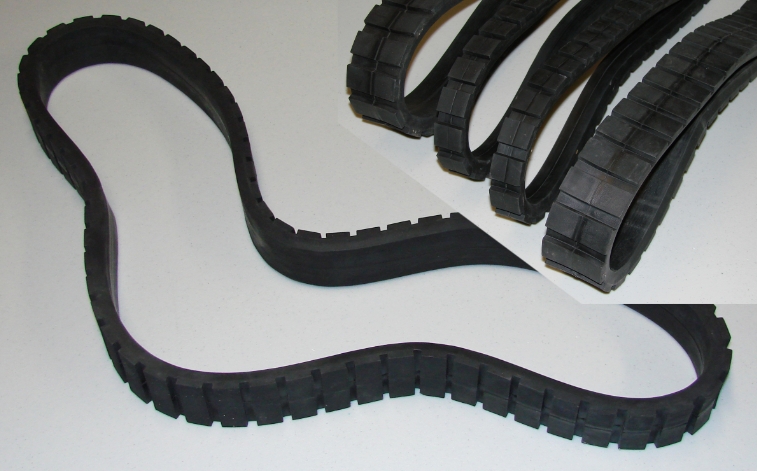 High Quality Seamless TREAD BELTS
Full set of 4

$189 (plus shipping & handling)
* These are very high quality custom manufactured one piece seamless tread belts.
* These belts are tapered to fit the authentic tapered type wheels, but should also work fine in straight edged wheels.
* These are suitable for display or for rolling applications, but would probably not not be suitable for motorized treadsection where the tread belts provide the drive. (They are not reinforced)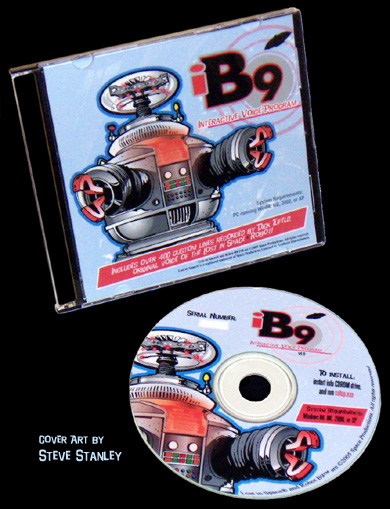 Introducing iB9!
Interactive Phrases and Voice Software for your B9 Replica
Price: $89 New Lower Price! (PayPal preferred)


Have you ever wished your robot could respond to questions, initiate conversations, and snap off witty one-liners to your friends and admirers of your Robot Replica? And do it in the Robot's original and distinctive voice? Well now you can! Everything you always wished your robot could say in an interactive situation, and more!

I_B9 (Interactive B9) consists of a huge Library of over 400 newly recorded custom phrases by Dick Tufeld (original voice of the Lost in Space Robot), along with a really slick Windows based software program that makes selecting and playing the phrases quick and easy. However, I_B9 is much more powerful than just that!

I_B9 gives you the power to combine phrases to create your own, organizes the phrases into "Phrase Groups" and easily gives you the ability to create different "Libraries" that are tailored to different occasions. I_B9 plays the robot's background sounds on one track, and the voice tracks on the other, or you can choose any other sound or music file to play on the 2nd track. You can create scripted dialogue, or with the click of your mouse put the software into "Automatic Mode" to play phrases randomly when you don't want to manually control what your robot is saying. You can even have the robot say the current time and date, or add this function into any other defined phrase.

The beauty of I_B9 is that you can use it right out of the box "as is" with the Master Library, or you can do as much or as little customization as you desire. I_B9 gives you the creative opportunity to make it your second favorite hobby!

What if you already have some custom lines recorded by Dick Tufeld? Great! You can easily add those into I_B9!

As a bonus feature to your purchase of I_B9, you will be invited to join the I_B9Talk list, which will be solely dedicated to help and advise on using this amazing software package.

System Requirements: PC or Laptop running Windows 98, ME, 2000, XP, Windows 7, or Windows 8 (Comparability Mode - Win98). However, Mac users can still utilize the .mp3 files to take advantage of the huge Library of custom interactive phrases.

I_B9 comes on CDROM and installs quickly and easily, taking up only about 11Mb of disk space. Connection to your robot is easy. Simply connect your speaker out from your PC or laptop to your robot sound system, exactly the same way a portable CD player is connected.

Click the Buy Now button below to order using PayPal (Paypal is the preferred method of payment.)

Click here to Email me about other payment methods

Anodized CNC Aluminum Microphone Head
With Screen and Center Pin

$35 (plus shipping & handling)
*
Comes as a kit with parts shown.
* Anodized so it can be left as bare aluminum or painted as desired.
* Can bolt right to torso with threaded hole in back, or with some ingenuity add a handle, or even drill it out
and make it a real working mic.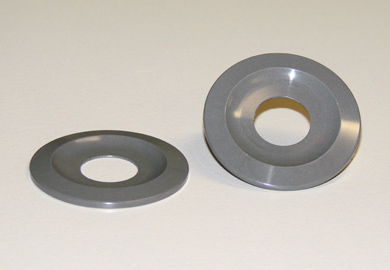 Cold Cast Aluminum Knob / Microphone
Torso Rings
Price: $18
KNOB / MIC FLANGE RINGS:
I created some very authentic looking knob and microphone flange rings, and I offer these in cold cast aluminum. They are cast with high quality resin embedded with aluminum. Highly detailed and very strong! They can be attached with Bondo.

Set of two

Aluminum Rings in place-1
AAluminum Rings in place-2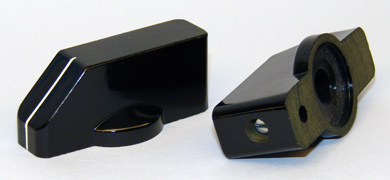 The Torso Knob

$4 (only available with purchase of other parts)
Not a replica. This is a factory made knob like the one used on the original Hero Robot during most of the series.


Early 1st Season Torso knob (Quantities limited!)

$6 (only available with purchase of other parts)
Not a replica. This is a factory made knob like the one used on the original Hero Robot during most of the first season.


Set of Two 1.5" White Dialight Lenses AND two 1" Dialight Sockets

$75 (plus shipping & handling)

Alternate Flashing Chest Light Controller

Price: $29


A 12 Volt assembly that will alternately flash the two large chest lights. This was a detail seen on the robot early in the series, and adds a very cool and mechanical rhythm to the look of the robot. It comes with an adjustment pot to vary the flashing speed, and two pre wired sockets with bulbs. You can use these sockets (recommended) or re attach the wires to your own sockets. Hook up is easy, attach the red wire to +12 Volts(DC), the black wire to ground, and you are done!

24V Dewert Gear Motor for Animation

$35 (plus shipping & handling)
These are Mike Joyce's other B9 Builders favorite motor for animating the hips, waste, and bubble lifter.
Powerful motor suitable for most animation.
Sorry but I do not know the gear ration on these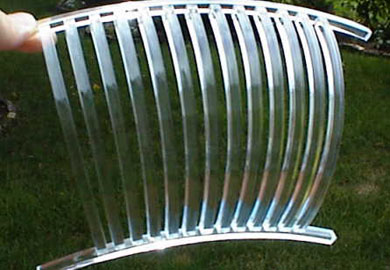 Acrylic Rod Torso Vents

Price: $170

Full set of 4 authentic style, hand bent Vents. These are the highest quality, and all the pieces are solvent welded together under pressure making them very sturdy. Please notice how the vents are constructed with the ends of the vent ribs welded to the upper and lower cross braces. Because of this construction all my vents will work with the Curved Channel Rails that I make (see below) to create a very nice sliding vent system. I can sell the front vent only for $40 (Non members: $45). All the vents come standard as non-frosted, but frosting is available for $15 upon request.
Front Vent Front Vent in place Side Vent Side Vent in place Full set

Note: The Laser Cut Frosted Vents are no longer available due to process problems.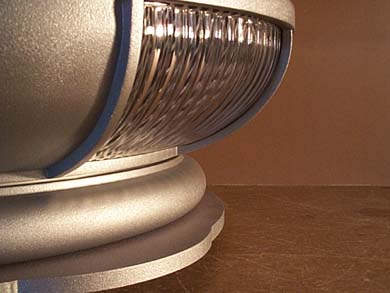 Tim K Style Acrylic Rod Torso Vents

Price: $170

These vents were developed specifically to fit the TimK torso sold by Michael Joyce. What isn't obvious at first glance when looking at the lower dome of the TimK torso is that it is not an even radius curve. It is actually a compound curve. A standard even radius vent can fit OK, but my new TimK Style Vents were designed to fit perfectly.
These vents do not come frosted, but here is how they look with the backside frosted:
The TimK Style Vents still fit my Curved Channel rails, AND my Programming Bay (See below), and are also made with the same quality and craftsmanship as my standard vents. And the best news of all, they are the same price as my standard vents!
Price: $20

A set of three pieces of expanded aluminum screening for the side and rear vents, as seen in the original robot (2nd/3rd season). Each piece is 9.5" x 7.5" which is large enough to cover the inside of any vent opening on any torso. The expanded aluminum is very sturdy, but it can be bent by hand into a curve to fit nicely behind your vents. Please note, prices listed are for a set of THREE pieces.
Click on image for more detailed photos.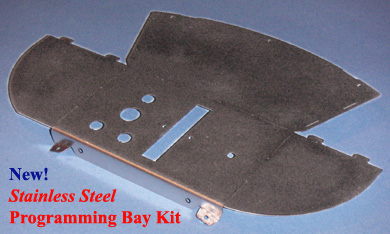 Programming Bay "KIT"
NEW! Laser Cut Stainless Steel

Price: $42

Introducing the new Laser Cut Stainless Steel Programming Bay Kit! These panels use a tab and slot design and are easy to bend and assemble. The SSPB Kit comes with the bottom lip and top two attachment tabs already pre bent, and the rest you can be bent by hand.

Improved Design: This version of the Programming Bay incorporates some nifty new design changes to make attaching the lower aluminum channel much easier than previous versions. In fact, if you buy a set of Curved Channel Rails (see details below), the attachment holes and hardware will be included for FREE!
The Beauty of Stainless Steel: You don't even need to paint it! Leave the natural finish for a great look to your Programming Bay.
As with my previous versions, this Stainless Steel Programming Bay is based on my Programming Panel Diagram on the club web site.



As delivered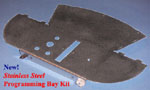 Assembly
Finished!

Front Vent in place - 1 Front Vent in place - 2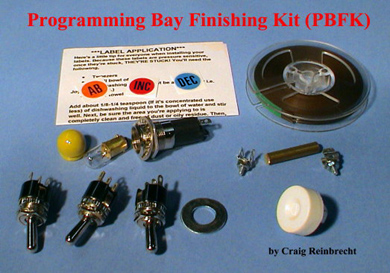 The Programming Bay Finishing Kit

Price: $40

Here at long last! The part many have been waiting for... The Programming Bay Finishing Kit! This kit will include ALL the detailed parts required to finish off your programming Bay. The kit includes:
* The 3 Labels (INC, AB, DEC) with Application Instructions
* The 3 toggles switches
* 1" washer for the upper switch
* Light Socket (bayonet style)
* 12V Lamp for light socket
* Opaque Yellow Dome Lens Cover for light
* 3" Authentic Reel Tape
* Brass Hub for Tape
* Two Fuse Holder Clips WITH screws
* Reproduction Potentiometer (Built-in bolt and nut for easy installation! Will require painting.)

Your Finished Programming Bay will look like: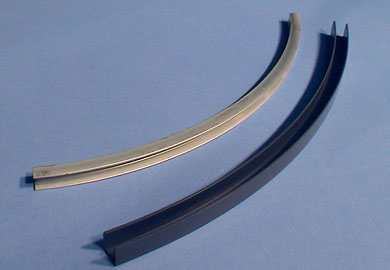 Programming Bay
Curved Channel Rails

Price: $22



CURVED CHANNEL4 RAILS
Create a very nice sliding front vent system with the lower (aluminum) and upper (PVC) Curved Channel Rails. These rails are designed to fit perfectly on the new Stainless Steel Programming Bay to create a very smooth sliding front vent.
Attachment holes and hardware are included FREE for one set of Rails, when a Programming Bay Kit is purchased!

Also use these Curved Rails to create sliding side and rear vents! Or use with your own Programming Panel.
Stainless Steel Prog. Bay with Channel Rails
Channel-1 Channel-2 Channel-3 Movie of Channel (MPG)
Curved Channel Rail Pricing:
One Set $22
Two Sets $38
Three Sets $50
Four Sets $60
Attachment holes and hardware are included FREE for one set of Rails, when a Programming Bay is purchased!

Attach-1 Attach-2 Attach-3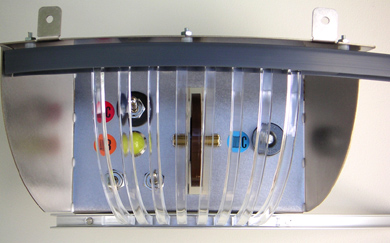 Programming Bay
Combination Package
Pricing:


Please Note: The following Packages are "Kits" that will require assembly and some minor finish work. None come completely assembled.
Combinations:

New Laser Cut Stainless Steel Programming Bay "Kit" (PB) - Price: $42

PB + One Set of Curved Channel Rails (RAILS) - Price: $64

PB + Programming Bay Finishing Kit (PBFK) - Price: $82

PB + RAILS + PBFK - Price: $99

Complete Programming Bay Package:
PB + RAILS + PBFK + Front Vent (FV) - Price: $137

Complete Programming Bay Package with Vents:
PB + RAILS + PBFK + Full Set of 4 Vents (VENTS) - Price: $265

Complete Lower Torso Package:
PB + RAILS + PBFK + VENTS + Set of 3 Expanded Aluminum Screen (SCREENS) - Price: $280

Complete Lower Torso Package with Side/Rear Rails:
PB + RAILS + PBFK + VENTS + SCREENS + 3 Additional Sets of Curved Channel Rails - Price: $315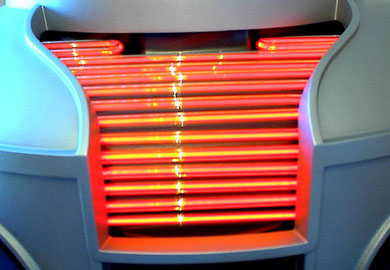 12 Row Neon

Price: $245 (New Lower Price!)

The very highest quality and most authentic looking neon set available. My design uses 10mm tubing instead of 8mm, and has 12 rows of neon (plus the two loops at the top) instead of 11 like most other neon being sold. The top portion is also curved to fit the torso for a nice flush fit. I use a very complex 4 piece interlocking design, but I glue the two upper and two lower halves together for easy installation. This also makes it MUCH less fragile than standard neon. These are built to order and there will probably be a 3 to 6 week wait.
Neon-1 Neon-2 Neon-3 Neon-4
NOTE: I recommend the use of the Tech 22 music interface and 8KV neon Transformer.

See my Tech 22 wiring article.

NEW! Laser Cut Anodized Aluminum Chest Bezel
1/8" Thick!

In Stock Now!

Price: $35


1/8" thick Laser Cut Anodized Aluminum Bezel styled after the 2nd/3rd season robot, completely finished requiring NO finishing work. Also includes the two flat-head machine screws.

Get a Bezel and Button kit for only $55!! See the Package Prices with Button Kit and Button Backer below.




Laser Engraved Acrylic Chest Button Kit
( only available in kit form )

In Stock Now!


Price: $30 (Kit)



These are the matching colored acrylic buttons for the Laser Cut Anodized Aluminum bezel in a kit form. I created the font myself to match the original buttons exactly. The button tops are made with transparent colored acrylic, which gives the buttons very vivid colors. The backing pieces are made from translucent white to diffuse the light from behind.
The kit requires that you glue (solvent weld, E6000 or Goop) the colored button to the translucent white backing piece, and then paint the engraved text black with acrylic paint available at any craft store.

New! Also available at the same price (while supplies last) are CLEAR buttons for that 1st Season look! The button tops are made with transparent clear acrylic, just like the First Season Robot. The backing pieces are made from translucent white to diffuse the light from behind.

Button Finishing Instructions

Button Kit-1 Button Kit-2 Button Kit-3 Button Kit-4 Button Kit-5

Get a Bezel and Button kit for only $55!! See the Package Prices with Bezel and Button Backer below.

Price: $18


This is a curved clear acrylic backer used to hold the chest buttons firmly in place. It will work great with my Laser Cut Aluminum Bezel and Buttons, and it should also work great with other bezels and buttons. The Button Backer is designed to install on the inside of the torso, and the pre drilled mounting holes making it a snap to install with my Laser Cut Bezel (other bezels may require drilling). The Acrylic Button Backer will also work great in conjunction with Bill K's Stainless Steel Light Box.

Click on image for more larger photo, Bezel and buttons not included.


Bezel / Button / Backer Combination and Package Pricing:

Laser Cut Aluminum Bezel + Acrylic Button Kit - Price: $55

Laser Cut Aluminum Bezel + Acrylic Button Kit + Button Backer - Price: $72