Price: $89 New Lower Price! (PayPal preferred)

Have you ever wished your robot could respond to questions, initiate conversations, and snap off witty one-liners to your friends and admirers of your Robot Replica? And do it in the Robot's original and distinctive voice? Well now you can! Everything you always wished your robot could say in an interactive situation, and more!
I_B9 (Interactive B9) consists of a huge Library of over 400 newly recorded custom phrases by Dick Tufeld (original voice of the Lost in Space Robot), along with a really slick Windows based software program that makes selecting and playing the phrases quick and easy. However, I_B9 is much more powerful than just that!
I_B9 gives you the power to combine phrases to create your own, organizes the phrases into "Phrase Groups" and easily gives you the ability to create different "Libraries" that are tailored to different occasions. I_B9 plays the robot's background sounds on one track, and the voice tracks on the other, or you can choose any other sound or music file to play on the 2nd track. You can create scripted dialogue, or with the click of your mouse put the software into "Automatic Mode" to play phrases randomly when you don't want to manually control what your robot is saying. You can even have the robot say the current time and date, or add this function into any other defined phrase.
The beauty of I_B9 is that you can use it right out of the box "as is" with the Master Library, or you can do as much or as little customization as you desire. I_B9 gives you the creative opportunity to make it your second favorite hobby!
What if you already have some custom lines recorded by Dick Tufeld? Great! You can easily add those into I_B9!
As a bonus feature to your purchase of I_B9, you will be invited to join the I_B9Talk list, which will be solely dedicated to help and advise on using this amazing software package.
System Requirements: PC or Laptop running Windows 98, ME, 2000, XP, Windows 7, or Windows 8 (Comparability Mode - Win98). However, Mac users can still utilize the .mp3 files to take advantage of the huge Library of custom interactive phrases.
I_B9 comes on CDROM and installs quickly and easily, taking up only about 11Mb of disk space. Connection to your robot is easy. Simply connect your speaker out from your PC or laptop to your robot sound system, exactly the same way a portable CD player is connected.
Click the Buy Now button below to order using PayPal (Paypal is the preferred method of payment.)
Click here to Email me about other payment methods
Anodized CNC Aluminum Microphone Head
With Screen and Center Pin

$35 (plus shipping & handling)
* Comes as a kit with parts shown.
* Anodized so it can be left as bare aluminum or painted as desired.
* Can bolt right to torso with threaded hole in back, or with some ingenuity add a handle, or even drill it out and make it a real working mic.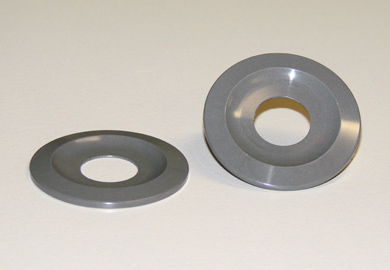 Cold Cast Aluminum Knob / Microphone
Torso Rings