Neon Power Supply & Sound Interface - Used to power the neon and activate it during speech.


Tech 22 (formerly Tech 2000) sells a 12volt Transfomer that is ideal for our needs.
You can contact Tech22 directly: (800) 748-6644, (760) 431-7144.
Tell them you need the transformer and music interface for the Robot neon, and they will know exactly what you need. They will also include the needed diodes. Request the Model 8000, 12V unit & music interface.
Here is a spec sheet on the power supply. ( model-8k12.pdf )
Read Craig's article on how to wire the neon.

Power Supply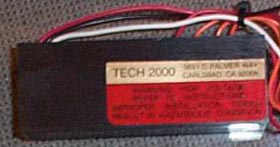 Music Interface