Greg Logue's B9 Collar.
I'm fortunate to live close to Club member Greg Logue. He's currently building the B9 collar section. Greg came over and worked on his collar today as I was working on the torso.
Greg's collar will be based upon Dave Painter's blueprints, with some modifications.
Here are Greg's collar jig and a $5.00 toaster oven he picked up at a garage sale: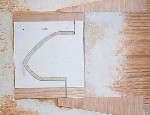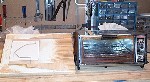 Final Product:
Each collar is built to the specifications in David Painter's blueprints with two modifications. First, the top ring is modified with the center hole cut at 4.5 inches. This allows the lazy susan to be attached directly to the collar without additional material. Second, the ribs are molded to the shape from Mike Norton's web site on building the collar. The ribs have been modified in size to fit the requirements of David Painter's support system.
The end result is a very solid collar with the shape of the original robot.
Each collar comes with the lazy susan bolted to the collar or can be left separate for the buyer to attach later. The necessary holes are pre drilled and the required screws, lock washers, and nuts are included.
If you would like further information, please email Greg direct - glogue@hills.net