Casting the Torso.
By MikeJ
This page describes the process of casting a one piece fiberglass torso using the mold which was constructed earlier.
First step is to prepare the mold. This means 3 coats of wax, wait 4 hours, 3 more coats of wax and then an application of the PVA mold release agent. (Many thanks to my wife who stayed up to 1:00 am waxing the mold with me!)
Here are some shots of the mold: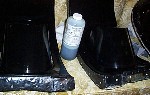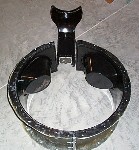 After the portions are prepared, we assemble the mold. I may have went overboard on the number of bolts and wingnuts used. I made a cradle to support the mold in various positions using a piece of the plywood left over from the plug's ring section.
Here are some shots of the assembled mold: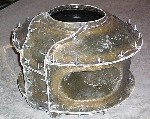 The messy part is next. First layer is Duratec sandable primer. Then we fill in all the trim areas with a fillet of resin, cabosil and 1/4" chopped fiberglass. Finally we cut all our fabric and lay up the fiberglass inside the mold. This is very messy and the holes do not allow much room to work. I didn't take any photos during this process because of the mess.
Next time, the moment of truth! Time to remove the torso from the mold.
Here it is straight out of the mold. The flashing will have to be trimmed off. Also, the release coat will have to be washed off. I'll then have some minor sanding were the seems are.
Like father like son?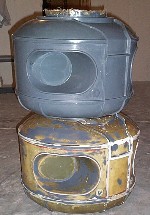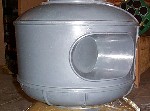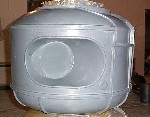 A very enjoyable project!