Mini J2 Journal Entry: 21 July 2002
I Spent some time this weekend working on the "floor". The floor is a round deck made of 4 sheets 3/8" plywood and 2x4's. Because it is round there was a lot of time spent laying out the patterns and cutting all the angles.
Here's a shot of the floor framework: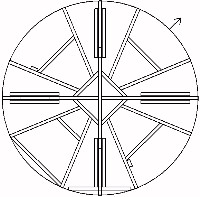 And here's some shots of the construction of the floor:

I painted everything inside and out with "Asteroid Grey" exterior laytex paint (the camera makes it look blue, but it isn't). It took a lot of extra time to paint even the insides which won't show, but I want it to be able to withstand the weather. The large opening is the bottom hatch. The two smaller compartments will be for "storage". The bunks will hang off to the sides and not take up much floor space. The two chairs will sit forward of the two storage compartments.