Dick Tufeld

Born: December 11, 1926 in Los Angeles, California, USA
Died: January 22, 2012 (age 85) in Studio City, Los Angeles, California, USA

A personal message from Mr. Tufeld to our club:

Who could have possibly conceived, when LOST IN SPACE was first televised on CBS in 1967 that, over thirty years later - on the absolute edge of a new millennium - the program's enduring and endearing Robot character would have assumed icon status, that such a mind boggling concept as the "internet" would have become reality, that such things as "web sites" could possibly exist, and that a group of impassioned individuals (some of them not even in existence at the show's launching over three decades ago) would form a B9 Robot Builder's Club?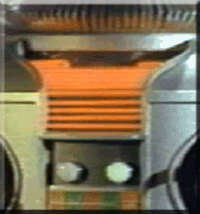 Well, conceive it! It all came to pass. It's here. It's here NOW. And best of all perhaps -- YOU'RE here! And I promise you that the two people most astonished by all of this are Bob May, who's unsung gifts brought the Robot to unforgettable existence, and myself. /p>
Because producer Irwin Allen "exclaimed" (a really euphemistic word, trust me) "that's the "Alexander Scourby approach I've been looking for -- my God, what took you so long??!!" (you all know the story, and I don't think so!) -- I was very fortunate to become the voice of the Robot: fortunate to work with a wonderful group of people who are friends to this day, fortunate to have continued on in the recent motion picture version, and really fortunate to be remembered by a group of unbelievably kind and loyal fans from everywhere around the world.
To all of them, and to all of YOU -- members, participants and friends of the B9 Robot Builder's Club -- my sincerest appreciation. Your work brings honor to all of us.
My sensors indicate there are no "bubble-headed boobies" at this site! (well, maybe just a few, my sensors ARE ageing, you know) And (no surprise here!) -- You REALLY do compute! (Boy, do you ever!!!)
May you always build in good health. I thank you always. And I'll never forget.
Dick Tufeld
August 28th, 1999